2020 Pipe Band - Duty Bands
Duty bands will be in-and-around the competition grounds all day, Saturday, September 14th to assist bands and soloists up-to and during their competition times.
The City of Tulsa Pipes and Drums (COTPD)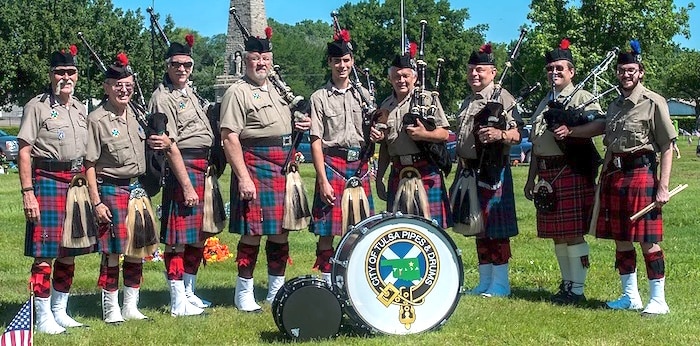 The City of Tulsa Pipes and Drums (COTPD) is under the directorship of Pipe Major Bill Tetrick. COTPD is a non-profit organization and has been performing since 1976.
The COTPD aims to engage and enhance the Scottish and Celtic music scene by playing the Great Highland Bagpipes and Drumming at diverse venues and events. The band's mission is to bring the energy of the Scottish Highland culture to people everywhere by performing traditional and contemporary piping arrangements across the region in Arkansas, Kansas, Oklahoma, and Texas.
The COTPD performs for various events and is involved with many school systems showcasing the Scottish heritage and music to students in elementary to high school. The band also performs at various Oklahoma State University campus's events, including their commencement ceremonies. Additionally, the band performs at The University of Oklahoma (Tulsa Campus) and Connors State College commencement ceremonies in Muskogee. The band also performs at TCC each year for their 'Global Fest' and is a fixture at the Oklahoma Scottish Festival every year September in Tulsa.
Tulsa Police Pipes and Drums (TPPD)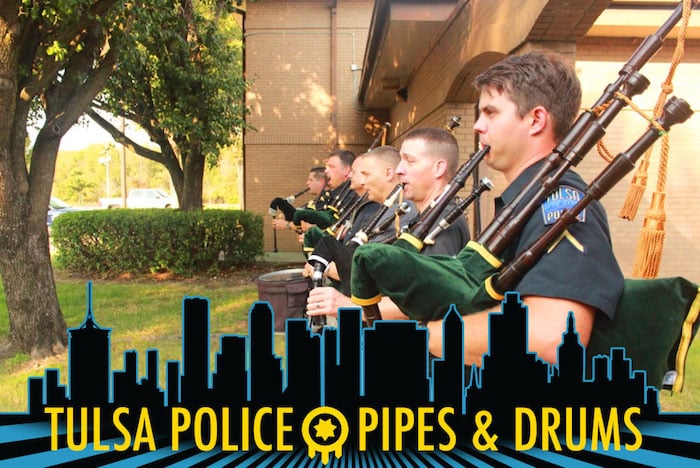 Beginning with an idea in 2017, Pipe Major Alexander Peiffer got together with a few coworkers and started scratching out a plan. The goal? Bringing an amazing musical culture to the forefront of the mid-west! With the help of fellow musician and Tulsa Police Officer Ashley Loncarich, the groundwork was lain for the Tulsa Police Pipes and Drums(TPPD), and by May of 2018 nine musicians debuted as a band at the Tulsa Police Memorial.
The band performs at a variety of services: memorials, graduations, funerals, parades, and special events. We serve both police and fire. You can find us running around Oklahoma's premier Scotfest around the second weekend in September every year! Here we integrate with our sister community band, Tulsa Metro Pipe Band. The Pipe Major Cody Wagnon is largely responsible for development of the pipers in TPPD. Cody, Morgan Holmes, and Tony Spurlock have all committed upwards of hundreds of hours of personal time to the development of our band.
Tulsa Metro Pipe Band (TMPB)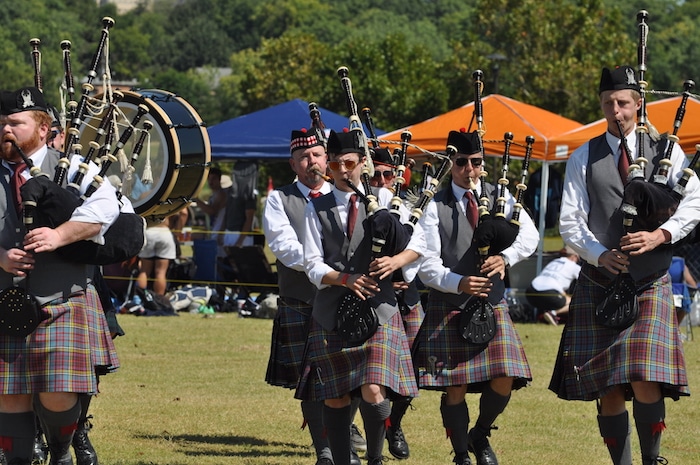 The Tulsa Metro Pipe Band is a group of dedicated pipers and drummers who love Scottish music and enjoy sharing it with fellow Tulsans and people further afield.
Our band was formed in 2012 by members of the former Anderson Pipe Band (we wear the Anderson tartan in honor of those roots). That year, TMPB made their public debut at the Tulsa Scottish Games. TMPB took 1st place in the band competition at that event!
Each year, TMPB perform and compete across Tulsa, Northeast Oklahoma, Oklahoma City, Kansas, and Arkansas.